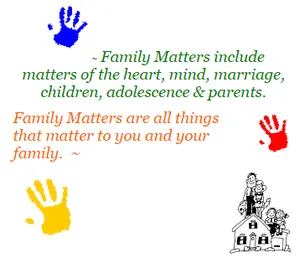 In 2005 Licensed Professional Counselor and Family Matters founder Molly Mc Cue began working with the late Dr. Bryan Warren a local well respected Psychiatrist in down town St Marys, GA. She began working just one day a week. Before long (in December 2006) Molly moved Family Matters to a separate office open full time.

In 2007 Family Matters would again grow and change due to local demand for services Molly added a second therapist to the practice. Later in 2007 Family Matters would incorporate and become Family Matters of Coastal Georgia, Inc. or FMCG. From 2007 - 2009 FMCG added several more providers and moved to its permanent home at 605 Osborne Street.


FOUNDERS NOTE...
---

"FMCG started as a single-practitioner private practice, but it soon became apparent that our community would be best served through a wide-ranging array of comprehensive techniques and specializations...Thus was born Family Matters of Coastal Georgia, Inc. and the vision of a team approach to mental healthcare in Camden County. Immediately (once the decision was made) we began to gather a staff of exceptionally talented and experienced professionals each offering distinctive and proven therapeutic modalities. We understood right from the beginning that we needed to offer a variety of services and we were not willing to compromise on the quality of care being provided! Over the years Family Matters of Coastal Georgia, Inc. has been the home office for some truly wonderful and talented providers in a wide range of specialties. While it is always a bit sad to say farewell to an admired colleague, FMCG's unique practice model was designed to embrace change and growth. "
~ Molly McCue, LPC & Founder FMCG